"I believe companies should approach Diversity, Equity and Inclusion from a Whole Systems change model" - Shari Dunn
As more and more companies are looking for ways to add DEI training to their employee development programs, I recently helped ITBOM LLC. find a way to create an engaging online suite of courses that can be easily implemented into any business. In this case study, we'll take a look at how we did it and what lessons we can learn from the success.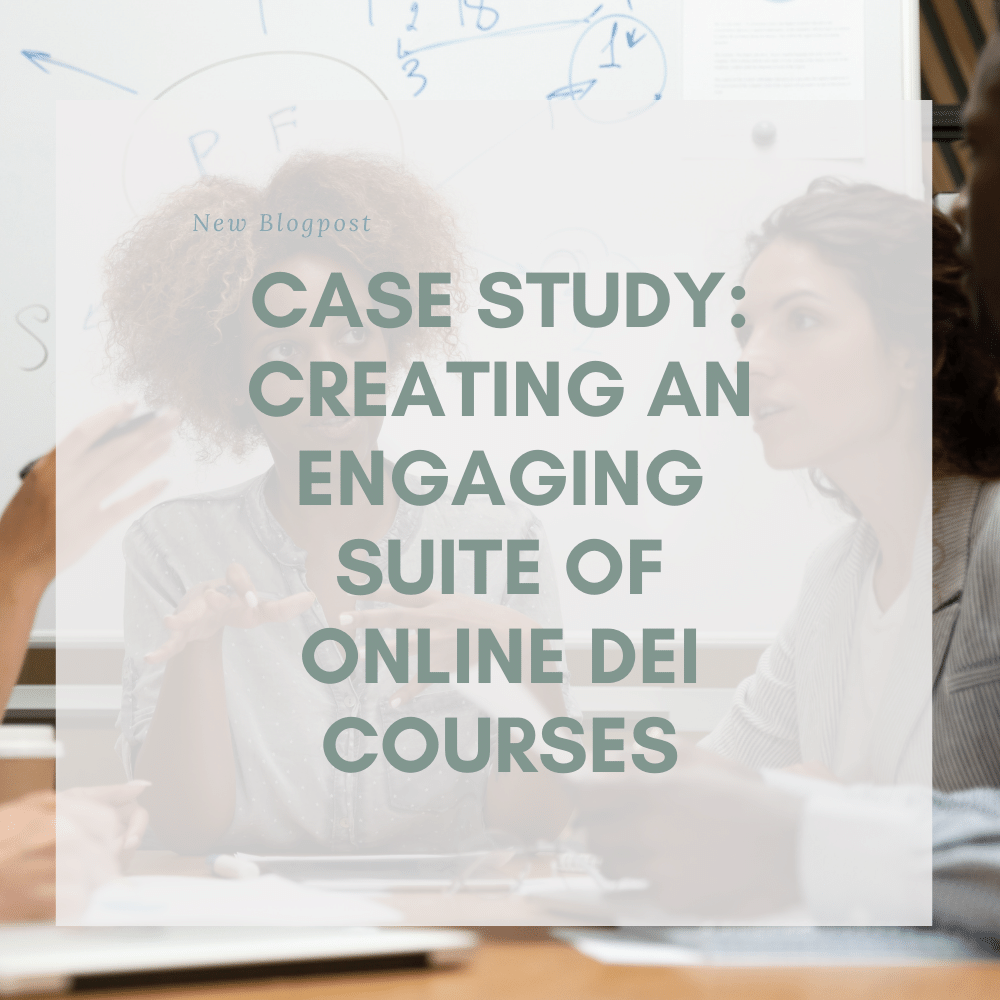 ITBOM LLC. is a DEI consulting firm that offers a complete solution to corporate DEI training. The company's founder, Shari Dunn, is an expert in the field and has years of experience delivering trainings in person. When she decided to move her offerings online, she knew she needed to find a way to create courses that were not only informative but also engaging and actionable for her clients employees.
The Challenge: Creating An Engaging And Actionable Online DEI Training Suite
When Shari Dunn came to me, she had already delivered the content for her DEI trainings in person and had a clear idea of what she wanted to achieve with her online offerings. However, she didn't have any experience developing e-learning courses and wasn't sure how to take her trainings from the traditional workplace setting into an online format. She also wanted to ensure that her courses would be engaging and actionable for business professionals who might not have a lot of experience with DEI issues.
Our Solution: A Comprehensive E-Learning Strategy That Engages And Empowers learners
After sitting down with Shari and talking through her goals for the project, we decided that the best way to approach this would be to develop a comprehensive e-learning strategy that would engage and empower learners. This meant incorporating personalized elements into the courses, using introspective self reflection journals. This enabled us to make the learning process more personalized, and provided opportunities for learners to apply what they were learning in their own real-world scenarios.
Shari's background as a journalist and her investing in a professional video shoot helped in creating engaging video narratives.
I worked with Shari to develop a Facilitation Guide so companies could run their own trainings using Shari's materials and her guidance. This enables them to customize the trainings to their own corporate environment and challenges.
I also worked with Shari to develop comprehensive assessment plans that would allow learrners to gauge their progress and identify areas where further development might be needed. By taking a comprehensive approach to the project, we were able to help Shari create an online DEI training solution that ticked all the boxes on her list.
Shari invited guest experts to deliver mini- trainings to enhance the range of courses and voices available.
The full list of courses developed cover a wide range of Diversity Equity and Inclusion topics:
Origins: Why We Talk About Race

Origins: Bias in Banking

Origins: Bias in Advertising/Marketing

Origins: Medical Bias

Origins: Bias in Criminal Justice

Unconscious Bias

Communicating Across Differences, Part One

Communicating Across Differences, Part Two

The Color of Leadership and Onboarding Leaders of Color

EEOC Overview

Inclusive Hiring I

Inclusive Hiring II

Facilitators Guide & Video

Coming Soon: How to Launch a DEI committee and Employee Resource Groups (ERG)
The Expert Voices series enhanced Shari's range and inlcude:
Leading with Inclusion -Martha Pellegrino, Brava Pointe LLC

Disability Rights - Emily Purry, Purry Consultants

LGBTQI Inclusivity -Emily Evans, Emily Evans Consulting Practice
A Comprehensive Marketing Strategy Enabled Her to Sell B2B While in Development
When Shari first started her work with me, she was focused on getting her product off the ground. She knew she had a great product, but she needed to find a way to market it so that she could start selling to business clients immediately.
The courses arenot sold individually. They come as a full suite of courses. If a company has 200 employees, they would buy a license for 200 seats and the price would adjust for 1, 2 or 3 year licenses.
Shari's marketing strategy had three main components: an Early Offer Sheet, a Preview Bundle, and a high end option for larger companies to host the courses on their own LMS. Let's take a closer look at each of these components and how they helped her sell her product while still in development.
The Early Offer Sheet: This was a tool that Shari used to reach out to former and existing clients, letting them know about her new product and offering them a special discount for being one of the first to try it out. This offer sheet not only helped her stay in touch with her existing clients, but also generated trusted interest and purchases.
The Preview Bundle: The preview bundle was a way for HR executives to get a sneak peek at the level of production and quality of the courses that would be included in the final product. This gave potential clients confidence that they would be getting a top notch product once it was completed, and also helped them demonstrate that to stakeholders. The preview bundle remains available to all potential new clients now that the courses are complete.
The LMS option for larger companies: Finally, Shari also offered larger companies the option to have the courses hosted on their own LMS (Learning Management System) once the product was completed. This allowed her to reach even more potential clients and generate even more interest in the product. We didn't want technology to get in the way of reaching employees where they are.
This strategy enabled her to sell her product to businesses while she was still in development. By offering licenses for multiple employees and giving existing and former clients an early offer sheet, she was able to generate interest and excitement for her product. Additionally, the preview bundle allowed potential customers to see the level of production and quality of her courses. She was also able to offer complete customization and close larger deals with companies who wanted to have the courses hosted on their own LMS. You can visit all the courses at ITBOMTrainingandConsulting.
The Results: An Engaging And Actionable Online Training Suite That Has Helped Businesses Improve Their Diversity, Equity, And Inclusion Efforts
Since launching her online training suite, Shari has received overwhelmingly positive feedback from businesses who have used her courses as part of their Diversity, Equity, and Inclusion initiatives. The courses have been praised for their engagement value, ease of use, and practical applications, with many businesses reporting significant improvements in their DEI efforts as a result of completing the trainings.
---
Start your own B2B Course Suite Checklist:
Here is a quick checklist to get you started with your own B2B Course Suite.
Decide on a depth of content so your Course Suite becomes unmatched in the market.

Develop a system with an e-learning expert to create engaging and effective content.

Invest in professional video production and editing.

Invest in the tools to enable you to deploy the system. In this case study we used Thinkific and Adobe Articulate.

Be generous in how you offer Previews that make the B2B sales process smooth and easy for stakeholders to evaluate.

Develop a marketing strategy that will give to a quick gauge on interest and a first injection of return to reinvest in further marketing.
---
The project was built out on Thinkific and Adobe Rise.
---
If you're looking for an engaging and actionable online training solution for your business, I'd love to help you in a similar way to ITBOM LLC.