"The journey of a thousand miles begins with a single step." - Lao Tzu
Introduction:
Are you interested in launching a Black Friday Sale event, but not sure where to start? Look no further than Launch Gorgeous! This 8-week program will teach you everything you need to know in order to create successful offers, including a service, a mini-course, and a digital product. You'll spend the 8 weeks working alongside a cohort of other business owners who are all striving for the same goal. And if you're worried that you can't do it, they have a mindset coach to help you with that! The end goal is an injection of cash for your business during the holiday season. This is the third time I've taken this course and I know I will benefit from the experience as much as the learning and action-taking inside. Here's why...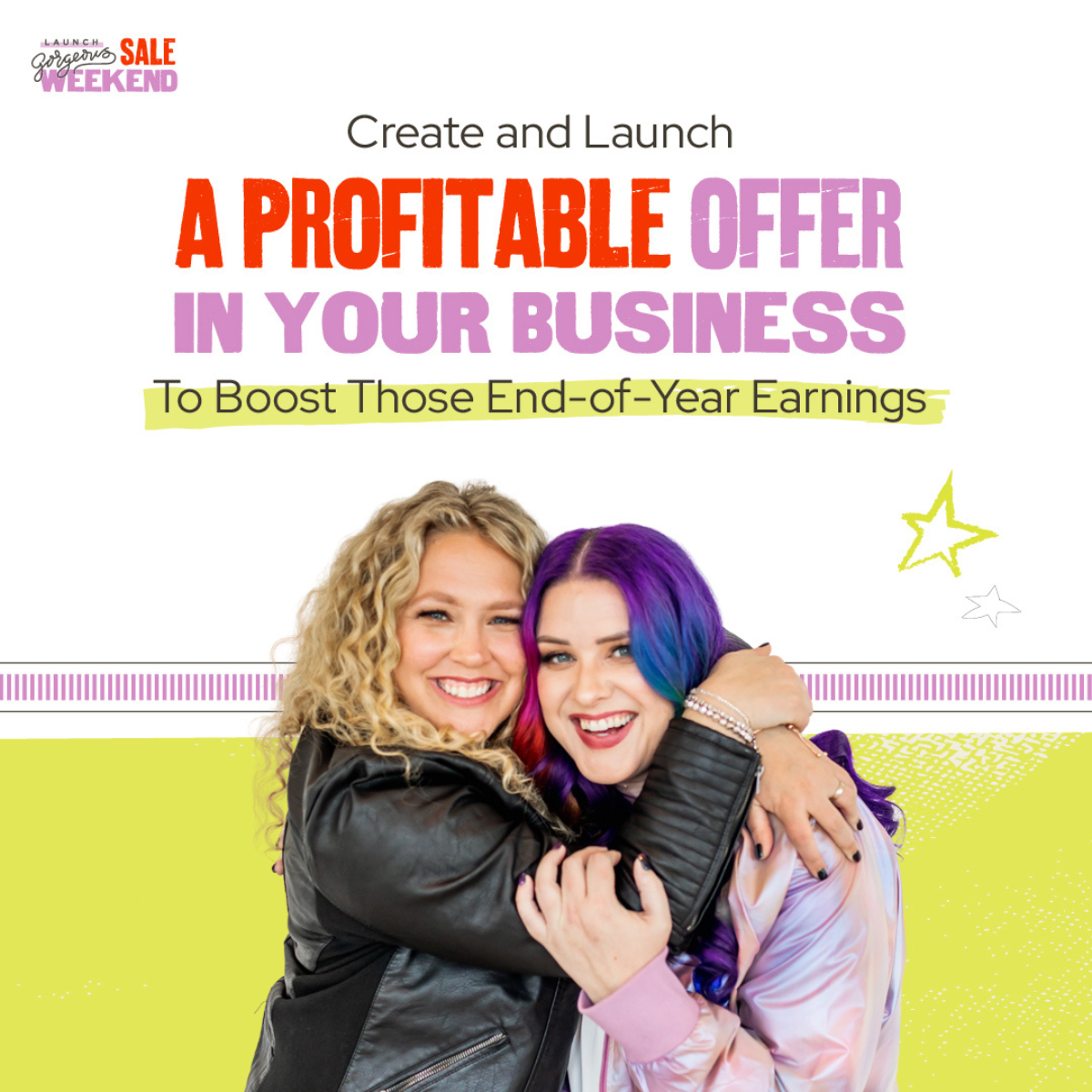 This is the third time I've joined Launch Gorgeous, here are 8 reasons why I love it so much and feel you would too! 👊
1. Develop your Offers with other Creators just like you!
Over the course of 8 weeks, you'll learn how to develop three different types of offers, market your sale effectively, and manage your time and energy so that you don't get overwhelmed. While working on your offers, a micro service, and a digital product. There is nothing like the hive mind to help you brainstorm. You will see everyone else describe their offers, products and services so you can get great ideas and feedback. You don't have to work alone anymore. The group is so supportive!
2. There's a Launch Gorgeous Mindset Coach included
Mindset coaching is a valuable tool on its own, and can be expensive. Many people don't launch because of the difficulty of getting visible and putting themselves out there. The Launch Gorgeous team has weekly group calls with a mindset coach to encourage you and provide expert tips. Mindset is key to success in launching, so this is a one of the most valuable parts of Launch Gorgeous. It makes it easy to get the encouragement and support you need to believe in yourself and launch successfully!
3. Sales Page Template & Automations
I know when you're launching with a deadline like Black Friday, there's SO much to do and it can feel totally overwhelming. You've got to create your products, get your website set up, launch your sales pages, create your email sequences... the list goes on and on! And it's easy to get bogged down and feel like you'll never get it all done. That's why I'm so excited about this program, because it's going to save you so much time and effort. The Launch Gorgeous team has done all the hard work for you and created a sales page template that comes with copy prompts and all the automations built in. So you can just plug and play if you have FG Funnels. And if you're using your own website, they provide you with the digital assets and automations so you can easily customize the design to suit your business. This would normally take days or even weeks to do, but with this program you can do it in a matter of hours. Paying a professional would be at a minimum $5000, I'm saving myself the headache.
4. Catalog Template & Timing your Marketing
Professionalism is key when it comes to beating out the competition, and what could be more professional than a catalog of your offers? This is a new idea that is sure to make you stand out from all the other Black Friday emailers out there. You get a template to customize that matches your sales page for extra impact. I'm so excited about this new option. Every Launch Gorgeous has different extras and incentives. For high ticket services this is will be useful beyond the Black Friday sales period.
Timing is everything when it comes to a successful Black Friday sale - start too early and you risk customers getting bored, start too late and you miss out on the peak shopping period. Launch Gorgeous have years of experience running profitable Black Friday sales, and they've put together a calendar and email copy to help you time your sale to perfection. With their help, you can make sure your Black Friday sale is a success!
5. Fast Acting Bonus
For those of you who act fast, there's a great bonus available. If you get Launch Gorgeous by today, September 22, 2022, you can get $300 off the price. That's a great deal, and it's only available for a limited time. So if you're interested, make sure you act soon. Even if you miss that deadline, though, don't worry. I predict there will be another surprise bonus leaked a few days before the cart closes on September 30th. So stay tuned and watch the marketing unfold.
6. Learn Marketing by just being there
The experience of being in a Launch Gorgeous cohort and learning from the people and resources in this community is invaluable. The skills and knowledge I gain from this experience helped me to create better learning products for my corporate clients. The Launch Gorgeous team and community is full of talented and experienced marketers and learners who are willing to share their knowledge and expertise. The resources and support available in this community are second to none. I highly encourage anyone who is interested in creating an amazing learning experience to join a Launch Gorgeous cohort.
7. Virtual Ticket to Marketers Heart Event In February
As someone who is always looking to learn and expand their horizons, I was thrilled to see that one of the bonuses for Launch Gorgeous is a free ticket to their Marketers Heart event in 2023. I know that three days spent learning from their expert speakers will be an incredible experience that will have a lasting impact on my business. The value of this bonus extends far beyond Black Friday weekend, and I am grateful to have the opportunity to learn from some of the best minds in marketing. I am confident that the knowledge and insight I gain at this event will bring even more success to my business.
8. Your network is your net worth
You'll have made some great connections with other business owners who can provide support and advice long after the program ends.
UPDATE: The final day is upon us September 30th, 2022 and of course there is a last minute extra surprise. For those signing up by the close of cart you will get access to the next round of Launch Gorgeous in January which will be based around launching a low cost workshop. So you get 2 rounds for the price of one. (There is always an extra goodie thrown in for the last 48 hours of cart closing to sweeten the deal. This is something you learn in Launch Gorgeous and I help my Done For You clients add to their launches.)
This is an affiliate link for Launch Gorgeous. I'm convinced you will benefit from the program. Please get in touch if you sign up and I'll be happy to be an accountability buddy throughout the whole 8 weeks.
Update 2: As you can see this round in now in progress, but you can sign up for the waitlist for next time. It is not to be missed!
---