"There's no better gift than the gift of knowledge" - Shri Yogendraji
New Thinkific feature just in time for the Holidays:
A couple of years ago I created a Self-Care Advent ebook for a Thinkific client. It was very inexpensive and she wanted to allow her audience to buy it as a gift during the run up to the Holidays. At that time there was no way to make that happen in the checkout, so I created a workaround that I detailed in this blogpost and we sold a ton of gifts.
Thinkific Gift Certificate UPDATE!
Just this week Thinkific has pushed an update. Their Gifting feature is now live and allows you to effortlessly sell your learning products as gifts that your audience can give to friends, family, and loved ones. It comes complete with personalized messages, email notifications, and easy redemption — no more clunky workarounds required. This is a wonderful opportunity for a lot of my clients to sell more courses.
1. Perfect for...
If you have a creative course, such as calligraphy or flower arranging for example this is a perfect way to make a new and lucrative offer over the holidays. Other courses that would be good for gifting are art & creativity, cooking, organization, parenting & kids, business & tech skills. The list goes on!
2. Setting up the Gift Certificate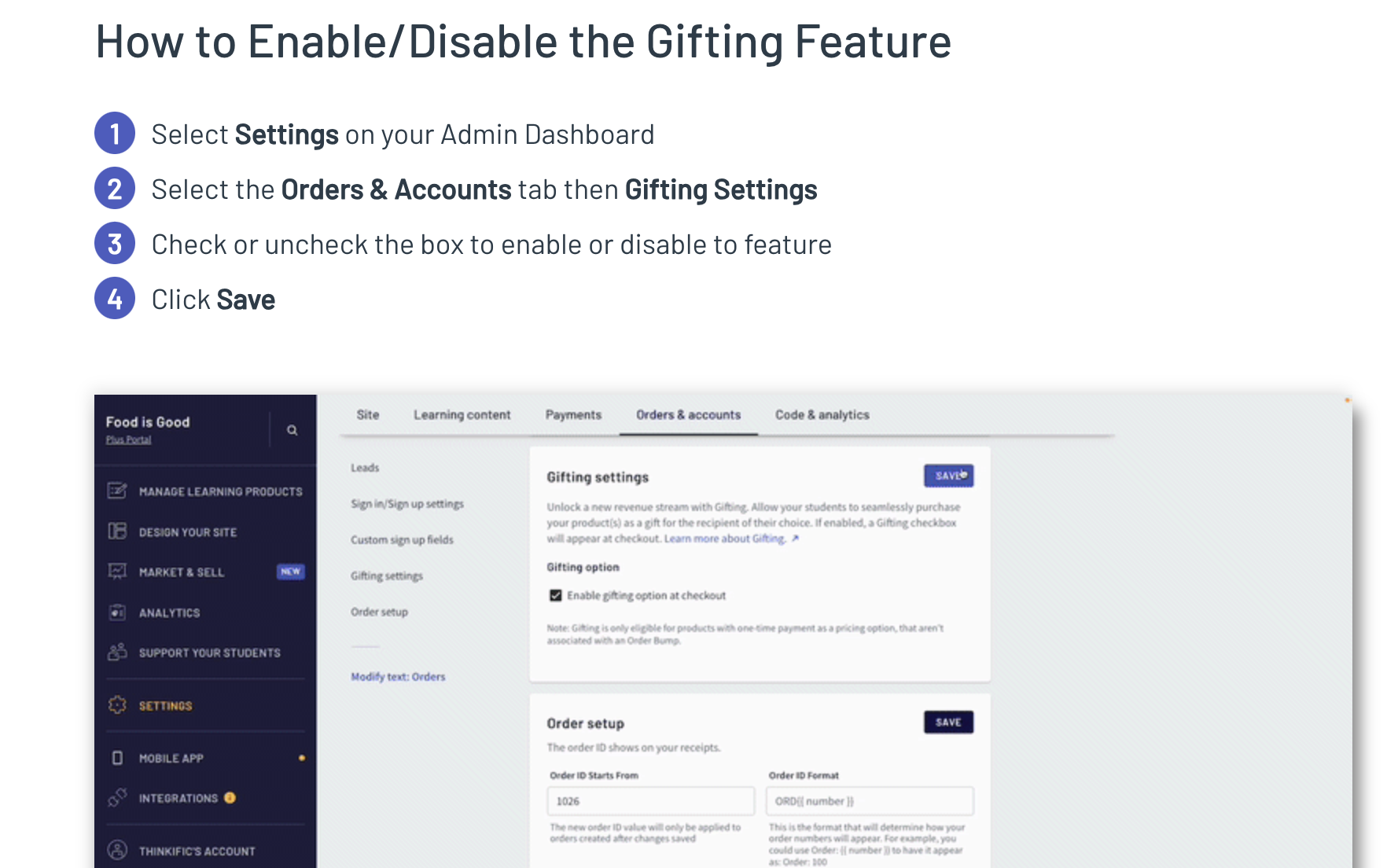 You can work this magic inside Thinkific very easily. You have to have a paid plan and you have to be using Thinkific Commerce for your payment processor. Then it is a simple toggle inside of your settings > Orders & Accounts. You can see in the image above.
3. The Gift Certificate option in the Checkout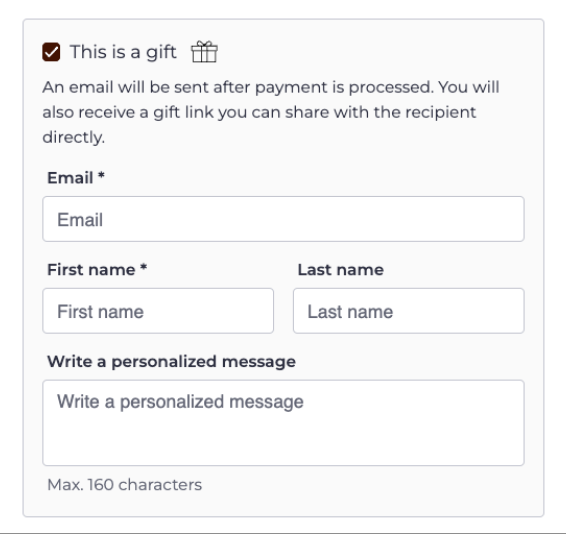 When your customer gets to the Thinkific Checkout they have the option to select that this purchase is a gift. All the details are in this Thinkific Help Page for reference.
4. Marketing for your Gift Certificate Offer
Even thought the gift certificate option is available in the checkout, you do want to make sure that you have some mention of it in your sales page. I recommend you update your sales page with an attractive section that explains the gifting option and how easy it is to use. Other places to let people know about your gift certificate option could include:
Send it to your email list.

Feature it on your website.

Promote through your social media.

Let you existing students know that they can gift the course through this new feature.

Include it in your Black Friday Offers.
Don't forget to remove the special section of your sales page in the New Year. You can always keep the gifting feature, but make the sales page explanation more generic and not so holiday focused.
My Original Blogpost about gifting (for those who don't use Thinkific Commerce as your payment processor this workaround will still work).
Get Thinkific Here (affiliate)
Contact me to set this up for you here